Our chef is preparing fresh dishes every day, check what is in the menu today!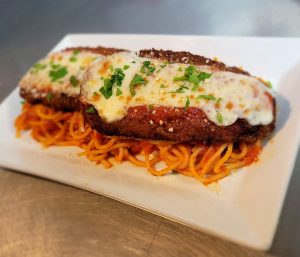 Traditional Italian Cuisine
Chicken Parmigiana
A great plate with healthy ingredients, will satisfy your appetite?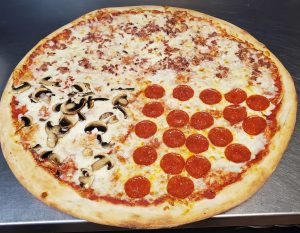 Delight your taste with Our Specialty NY Style Pizza
Create your own
Many Fresh and Tasty Toppings to choose from …Designed by you…
served in
Small, Medium and Large
"...I just love being and having dinner there for all the reasons you imagine! Awesome restaurant! Great customer service and quality!..."
We are Open...Please Join US
Our Dinning Room and Terrace is Open for Lunch & Dinner 
Amici's was founded in New York in 1995. Since 1995, Amici's has been serving their customers and watching generations passing by, enjoying the "Timeless Taste of Italy" in Miami. Amici's loves to serve their customers –from celebrities to the local neighboring families and friends. 
Amici's offers something for everyone, from pizza by the slice, for those on the go, to a gourmet meal for those who enjoy great food and the fine dining experience. Amici's also offers personal take-out catering platters and an indoor dining party section – to host that special occasion.
Amici's family secret recipes are the best kept secret key ingredients that keep our customers' palate asking for more. 
Join Us…We are located in Miramar , Near Miami  Lakes, 2 Minute North of the Turnpike.. Located on the South West Corner of Miramar Parkway and Red Road (57 AVE) … Next to  IHOP